There's a present for all Crysis gamers: in fact the new Crysis Map Pack 1 is available for free download.
This's a package includes 20 new single player maps. You can grab whole Crysis Map Pack 1 from 3dfxzone.it downloading a zip file with a size of 292Mb.
Names as well as sizes of maps follow:
Crysis SP D-Day 2000-1 Map (876.39KB)
Crysis SP Map65 v0.9.9 Map (2.96MB)
Crysis SP Xtesic v0.1.0 Map (6.21MB)
Crysis SP El Dorado v1.01 Map (4.28MB)
Crysis SP Uncharted chapter1 Map (6.55MB)
Crysis SP The Arena v1.0 Map (8.85MB)
Crysis SP Yang-Shi Island - Base part2 v1.0 Map (9.52MB)
Crysis SP Island Recon Map (11.34MB)
Crysis SP SHD (SeaholdeR) Beta1 Map (11.73MB)
Crysis SP Zombiefield Map (13.49MB)
Crysis SP Cannon fodder v1.01 Map (15.46MB)
Crysis SP The Mission v2.0 Map (16.96MB)
Crysis SP Savannah v1.0 Map (17.81MB)
Crysis SP Quarry HM v2.0 Map (19.05MB)
Crysis SP The Rescue v1 Map (20.39MB)
Crysis SP Excavation HM v2.0.1 Map (23.6MB)
Crysis SP Devils Island v1.1 Map (27.25MB)
Crysis SP Torpedo Isle beta1 Map (30.07MB)
Crysis SP CryFalls Islands Map (38.21MB)
Crysis SP Canyon v1.2 Map (42.21MB)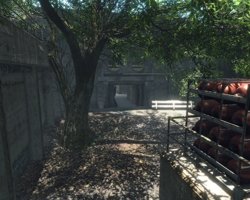 [Immagine ad alta risoluzione]

E' disponibile per il download l'add-on Crysis Map Pack 1 dedicata al titolo Crysis di Crytek. Il package amplia il numero di mappe utilizzabili nella modalità single-player, aggiungendone ben 20.
Di seguito sono elencate le nuove mappe e la dimensione fisica. Tutte sono scaricabili da 3dfxzone.it, racchiuse in un unico file zip dal peso di 292Mb.
Crysis SP D-Day 2000-1 Map (876.39KB)
Crysis SP Map65 v0.9.9 Map (2.96MB)
Crysis SP Xtesic v0.1.0 Map (6.21MB)
Crysis SP El Dorado v1.01 Map (4.28MB)
Crysis SP Uncharted chapter1 Map (6.55MB)
Crysis SP The Arena v1.0 Map (8.85MB)
Crysis SP Yang-Shi Island - Base part2 v1.0 Map (9.52MB)
Crysis SP Island Recon Map (11.34MB)
Crysis SP SHD (SeaholdeR) Beta1 Map (11.73MB)
Crysis SP Zombiefield Map (13.49MB)
Crysis SP Cannon fodder v1.01 Map (15.46MB)
Crysis SP The Mission v2.0 Map (16.96MB)
Crysis SP Savannah v1.0 Map (17.81MB)
Crysis SP Quarry HM v2.0 Map (19.05MB)
Crysis SP The Rescue v1 Map (20.39MB)
Crysis SP Excavation HM v2.0.1 Map (23.6MB)
Crysis SP Devils Island v1.1 Map (27.25MB)
Crysis SP Torpedo Isle beta1 Map (30.07MB)
Crysis SP CryFalls Islands Map (38.21MB)
Crysis SP Canyon v1.2 Map (42.21MB)
[Risorse correlate]