Abit ha presentato ufficialmente la motherboard A-N78HD, soluzione di fascia media compatibile con i processori di AMD con socket AM2 e AM2+, inclusi i nuovi Phenom quad-core. La A-N78HD è costruita intorno al chip-set MCP78 di NVIDIA, che include un processore grafico di classe GeForce 8200, ed è utilizzabile con le memorie DDR2 a 800MHz e 1066MHz (nel caso in cui venga abbinata ad una cpu Phenom).
Questa mobo, che supporta le tecnologie Hyper Transport 3.0 (ottimizzazione dello scambio dati tra i componenti sensibili) e Hybrid SLI (capacità di gestire simultaneamente il chip video integrato ed una video card aggiuntiva), è dotata di uno slot PCI-Express x16 (PCI Express 2.0), sei porte SATA 3Gb (RAID 0/1/0+1/5), una porta Gigabit Ethernet, HD Audio a 7.1 canali e una porta IEEE 1394.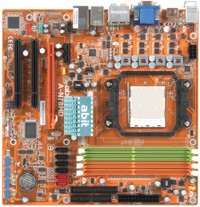 [Immagine ad alta risoluzione]

April 9th, 2008 – abit announced their latest motherboard for AMD Socket AM2+/AM2 processors, the abit A-N78HD. Based on nVIDIA's powerful GeForce 8200 chipset this highly integrated multimedia platform motherboard makes high definition multimedia enjoyment more convenient and easier than ever. abit paid special attention to video output flexibility with three connection options already implemented on-board. Users can choose between the standard D-Sub VGA connector or use one of the two digital outputs; DVI for high resolution monitors or HDMI for HD monitors and TV devices with combined HD audio output. With support for Hybrid SLI further expansion for more advanced graphics upgrades in the future is an easy task.
As abit's first motherboard supporting nVIDIA's innovative Hybrid SLI technology, this mainstream motherboard offers "GeForce Boost" and "Hybrid Power". GeForce Boost allows for scalable graphics performance when installing an additional discrete graphics card. Whereas Hybrid Power allows for shutting off the unused graphics adaptor when this is not needed, effectively resulting in lower power consumption and as a result reducing your electricity bill.
The integrated GeForce 8 graphics supports DirectX 10 and Shader Model 4.0. With the all-in-one design you just need a processor and memory and you are ready to indulge in high definition multimedia right out of the box.
abit also implements 3 graphics output ports for HDMI, DVI and VGA, supporting nVIDIA's nView multi-display technology in combination with additional add-on cards. With nVIDIA's nView technology you can spread your work across multiple displays. You can for example assign one monitor for one work window and a second one for another window. Or you can spread one window across two monitors doubling your desktop view.

For enhanced stability and longevity of you're A-N78HD motherboard, abit has also implemented a 4-phase OC-PWM set around the CPU and one extra one-phase OC-PWM for the memory area. This OC-PWMs also allow for better overclocking capabilities.
The abit A-N78HD motherboard is especially designed for multimedia enthusiasts demanding best performance. Because of the small form factor the A-N78HD is ideal for integration into slick and slim cases for state-of-the-art media centers. "Home Theater" is no longer just a slogan, but with the A-N78HD it has become convenient reality.
abit A-N78HD
CPU
Supports AMD AM2+ and AM2 Processors
System Bus
AM2+ CPU can reach 5200MT/s
AM2 CPU can reach 2000MT/s
Chipset
nVidia GeForce 8200 single chip
Expansion Slots
1 X PCI-E x16,1 X PCI-E x1,2 X PCI
LAN
On board Gigabit Ethernet LAN
Memory
4 X 240-pin DIMM slots, up to 8GB
Support Dual Channel DDR2 1066 / 800 / 667 / 533
SATA
6X SATA 3Gb/s, support RAID 0/1/5/0+1
Audio
On board 7.1 CH HD Audio CODEC
RoHS
100% lead-free process and RoHS Compliant
abit Engineered
abit SoftMenu Technology
abit EQ Technology




Fonte: Abit Press Release
Links