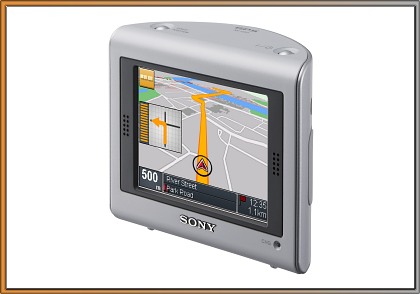 London, 1st December 2005 - Sony announces a small and perfectly formed, fully portable navigation device with clever Sony styling. The NEW "nav-u" range showcases a 3.5" high-quality touch screen display with an extra-wide 80° viewing angle giving you optimal flexibility. All "nav-u" products offer plug-and-play operation complimented by a smart cradle with easy installation suction cup and one-touch release. The high accuracy positioning of the Sony GPS chip and a long lasting battery ensure that users will never be lost again.

Sophisticated and intuitive, the user-friendly GUI (Graphic User Interface) with easy to read icons and efficient menu navigation, makes product interaction like second nature.

The NV-U50* and NV-U70T products guarantee stress-free driving with a dynamic re-routing function and real-time traffic information via TMC (Traffic Message Channel) where available. Your best route is automatically calculated and continuously updated making sure you are always on the right track.

The NV-U50 and NV-U70T feature a specially designed two-way speaker system, ensuring crystal clear voice guidance no matter what it's position thanks to a funky 1.6 Woofer at the back and a Tweeter in the front.


NV-U50 users enjoy a wide map coverage within their chosen region with up to five countries and boarder areas including neighbouring cities on each product. The NV-U70T offers pan European coverage (27 countries with 15 languages** ) which offers you seamless travel between countries even on long journeys. Languages include: English, French, Spanish, German, Italian, Dutch, Swedish, Greek***, Portuguese, Finnish, Czech, Norwegian, Polish, Danish & Flemish.

The following accessories are also available for NV-U50 and NV-U70T:
External GPS Antenna VCA-41
Car Cradle Kit NVA-CU3
TMC Car Cradle Kit NVA-CU3T
European Map Package NVD-DU3
Car Install Kit XA-49FM
The new "nav-u" range will be available in January 2006. Pre-order available soon at Sony Style store.



Source: Sony Press Release
Links