Super Talent Technology ha annunciato il prossimo lancio commerciale di una nuova gamma di flash drive Pico Mini USB (cfr. le foto seguenti), disponibili in varie capacità, a partire da 2GB e fino a 16GB. I nuovi drive sono stati realizzati con l'ausilio della tecnologia COB (chip on board) che permette l'implementazione di soluzioni dalla elevata capacità di memorizzazione a fronte di un ingombro limitato, che in questo caso è pari a 32 x 15 x 3 mm.
Tra le altre feature dichiarate dal costruttore segnaliamo la resistenza all'acqua mentre il picco di velocità è pari a 200X. I Pico Mini USB sono disponibili in quattro colorazioni, in funzione della capacità di memorizzazione; le varianti da 2GB (in rosa), da 4GB (in verde), da 8Gb (in blue) e da 16GB (in nero) hanno un MSRP pari rispettivamente a $9.99, $14.99, $23.99 e $39.99.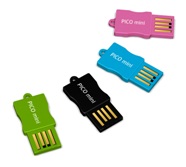 [Immagine ad alta risoluzione]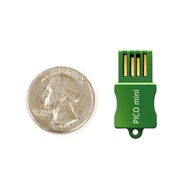 [Immagine ad alta risoluzione]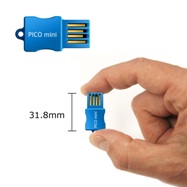 [Immagine ad alta risoluzione]

San Jose, California - July 7, 2009 - Super Talent Technology, a leading manufacturer of Flash storage solutions and DRAM memory modules, today introduced their new line of colorful and trendy Pico Mini USB drives, available this week in capacities from 2GB to 16GB.
Like their siblings, the Pico drives, Pico Mini drives are built using COB technology which enables squeezing impressive Flash capacities into extremely small packages. At 32 x 15 x 3 mm (1.3 x 0.6 x 0.1 inches), Pico Mini drives are surprisingly tiny. Even more impressive, they tip the scales at merely 1.5 grams.
Pico Mini drives are water resistant, and support up to 200X transfer speeds. The drives are offered in four bold colors that are color coded to four capacities, as show below. Each drive includes a springy matching keycord.
Part Number Description Retail Price
Part Number: STU2GMAP - 2GB Pico Mini-A, 150X, Orchid Pink, $9.99
Part Number: STU4GMAG - 4GB Pico Mini-A, 200X, Lime Green, $14.99
Part Number: STU8GMAB - 8GB Pico Mini-A, 200X, Sky Blue, $23.99
Part Number: STU16GMAK - 16GB Pico Mini-A, 200X, Classic Black, $39.99
"We designed these drives to build on the success of our popular Pico family. They share a lot of the same features, but while Pico drives have a shiny chrome finish, Pico Mini drives are colorful and trendy to appeal to a different demographic", explained Super Talent Director of Marketing, Joe James. Pico Mini drives will begin shipping this week to online retailers worldwide.





Fonte: Super Talent Technology Press Release
Links