Using a metodology based on a non-destructive reverse engineering process, the developer Anthony - you can access to its facebook page opening this URL - has built a video card named Napalm 6000 S.U.X. (Special Unified Xcelerator).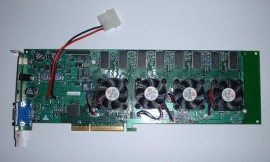 3dfx Voodoo5 6000 128MB
As some readers can maybe guess, this board features an in-house implementation of the well-know hystorical 3dfx Voodoo5 6000 128MB video card. But, in this case, the board design is a pure output of a interesting reverse engineering work, so it doesn't use any official 3dfx data.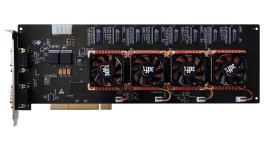 Napalm 6000 S.U.X. [1/4]
Obviously, the video card Napalm 6000 S.U.X. can claims a lot of the 3dfx Voodoo5 6000 128MB original specification, including the presence of four graphics chips VSA-100 as well as of a frame buffer implemeted with sixteen SDRAM 8MB chips working at 166 MHz.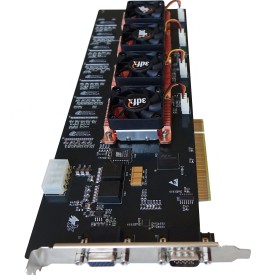 Napalm 6000 S.U.X. [2/4]
But this prototype introduces also significant differences aiming to enhance some aspects from the Voodoo5 6000 or allow to use the card with more modern hardware builds. And so Napalm 6000 S.U.X. brings out a different PCB's topology (including position of the PSU connettor) and a interface standard based on PCI rather than AGP.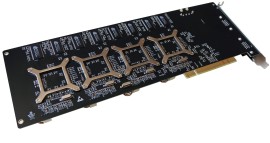 Napalm 6000 S.U.X. [3/4]
Furthermore, this prototype has been equipped with two connectors for the video signal management. So it looks capable to work also as a 3dfx Voodoo2 graphics accelerator.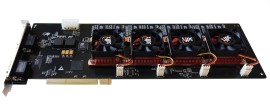 Napalm 6000 S.U.X. [4/4]
According to Anthony, on software side, Napalm 6000 S.U.X. can be managed with fully 3dfx Voodoo5 6000 compatible software at both low level (BIOS) and high level (graphics drivers). In same way, the performance of this card look to be alligned to the tipical 3dfx Voodoo5 6000 measures.
[Risorse correlate]